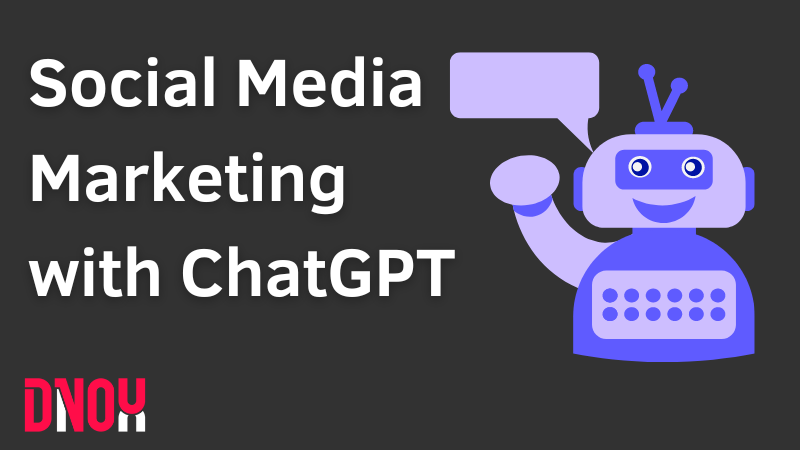 How To Use ChatGPT For Social Media Marketing: AI Technology To Improve Your Campaigns
As we all know, social media platforms have become an indispensable part of any business's digital marketing strategy. With the target audience constantly engaging with content on different platforms, it is vital to generate posts that capture their attention. Artificial intelligence (AI) technology is revolutionizing how social media marketers use social media - ChatGPT is one such chatbot that can help you craft captivating messages quickly and efficiently.
In this blog post, we'll discuss how to leverage ChatGPT for social media marketing and recognize why it's an invaluable asset for any enterprise- be it a fledgling or well-established one!
Integrate ChatGPT into Your Content Creation
ChatGPT enables entrepreneurs to produce high-quality content that appeals specifically to their target audience's interests, making it an invaluable tool for any successful business. By using keywords or related keywords, individuals/businesses can ask Chat GPT to suggest unique content ideas in a particular tone, generating posts that engage your viewers. With ChatGPT prompts, digital marketers can also choose a specific tone for their social media captions, creating posts aligned with the brand voice. Further, with the help of machine learning, this AI chatbot can perform basic tasks–– such as product descriptions, ad copy, and meta-descriptions, with precision and accuracy.
Conduct Keyword Research and Generate Valuable Content
Content writing is a time-consuming process, and all businessmen must constantly produce high-quality social media content to keep their viewers engaged; this is where ChatGPT comes in handy. With its built-in natural language processing, this tool can help content marketers conduct keyword research to find words or phrases of interest to a specific audience.
By using relevant keywords, ChatGPT can create tailored content to produce high engagement rates- for example, every social media manager can use ChatGPT to produce blog posts around the topic of digital marketing. Next, by leveraging this chatbot, they can produce content addressing the search volume metric to provide valuable insights to their readers.
Use ChatGPT for Social Media Management and Optimization
It's important to have a clear understanding of how your social media efforts are performing- and with Google Analytics integration, ChatGPT can provide entrepreneurs with much-needed insights into their social media marketing tactics.
For example, this tool can provide insights into the number of clicks, conversions, and engagement metrics each social media post has generated- allowing businesses to adjust their online marketing strategy accordingly. Moreso, with the help of Google Sheets integration, ChatGPT can also help entrepreneurs save significant amounts of time by organizing all their social media posts under one roof for easy access.
The Bottom Line
ChatGPT is revolutionizing the way businesses engage with customers on social media; by utilizing it for your marketing efforts, you can easily create content like a pro and gain valuable insights into how well it performs. With its powerful AI tools, this chatbot can help your business stay ahead of competitors by maintaining an active presence online as well as drawing in more traffic. Further, ChatGPT can significantly change and improve your content marketing game plan by increasing conversions and optimizing your social media strategy. In short, if you are looking to take your business to the next level, ChatGPT is an invaluable asset that can help you reach unparalleled success! With its AI-driven capabilities, it's clear why ChatGPT is a must-have for any company looking to make an impact on social media.

Back