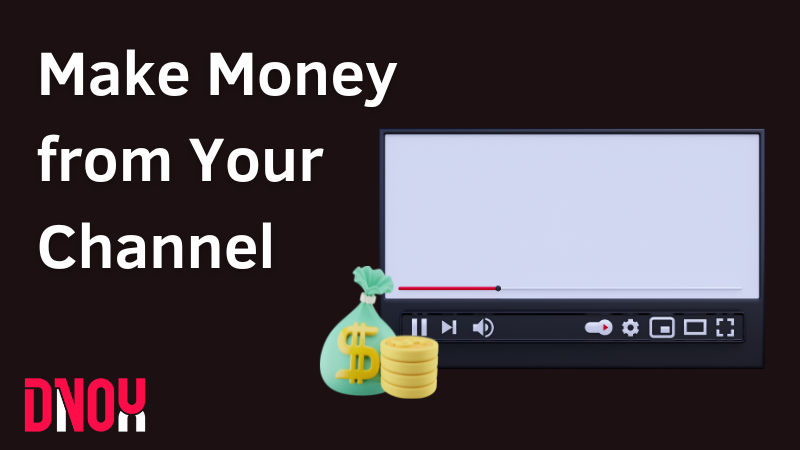 YouTube Monetization: A Step-by-Step Guide to Making Money from Your Channel
You've created a successful channel on YouTube, and you can feel the potential for big things ahead. With over two billion active monthly users around the world tuning in to watch videos every month, there's no doubt that your content could reach huge audiences.
But how do you capitalize on this popularity? The answer is monetization, turning your channel into an income source by leveraging various strategies such as ads, sponsorships, merchandising, and more.
If you're ready to unlock the financial rewards of creating content on YouTube, then read on to discover our comprehensive guide to earning money from your channel!
Understanding How Monetization Works on YouTube
Before we get started with making money from your videos, it's important firstly to understand what monetizing a video entails.
Put simply; monetization involves displaying advertisements before or during video playback, which generate revenue based on views or clicks depending upon the type of ad.
This revenue is split between both yourself (the publisher) and Google, who handle all payments via their AdSense platform - so make sure if you haven't already set up an account, now's the time too!
To become eligible though for these payouts, however, there are a few prerequisites, some of which include having at least one thousand subscribers and four thousand watch hours over the past 12 months.
This is to ensure that your channel has an established audience base and significant engagement with them.
Preparing Your Channel for Monetization Success
The journey toward monetizing doesn't end here. However, there are still several steps you must consider in order to maximize your success once accepted into YPP (YouTube Partner Program):
Create/link an AdSense account if not already done so; this serves as the gateway between YouTube's advertising platform and yourself, allowing for revenue generated from ads displayed on videos to be sent directly into your bank account!
Familiarize yourself with the terms and conditions of YouTube's partner program; understanding what content should/shouldn't be uploaded, along with any stricter guidelines around copyright infringement, will make sure you stay within their rules when it comes time to apply.
Optimise video titles, thumbnails, and descriptions, ensuring they accurately reflect your content while inviting viewers in through creative yet concise writing styles. All increase view counts, which ultimately leads to more money earned.
Applying For The YouTube Partner Program
Now we can finally start to apply for the YPP! Before submitting, however, your channel must adhere to YouTube's policies and guidelines; violating copyright laws can result in severe consequences such as account termination or advertisement removal.
Something else you might want to consider is using a licensed music platform like YouTube's Audio Library, which allows background music to be used without fear of infringement, meaning there is no need to worry about any potential risks come application time.
Once completed, applications are typically reviewed within one month though unfortunately may sometimes take longer depending on content/quality level.
If rejected after a review, then luckily, feedback will often be provided on what specific areas weren't up-to-standard; use this opportunity as much as possible by improving these points so that when applied again (after 30 day waiting period), you get accepted quickly!
Monetization Methods On YouTube: A List Of Options For You To Start Earning From Your Channel
Congratulations, you've made it past the review process; it's now time to begin monetizing efforts!
Here we list several methods available, along with brief descriptions of each, before delving into more details further down the article:
YouTube Ads - Displaying ads prior to/during video playback, generates revenue split between both yourself and Google.
Affiliate Marketing - Referral links for products/services placed in video descriptions generate commissions if clicked/purchases are made through them.
YouTube Premium Subscriptions - Ad-free content offered to members who pay a monthly fee with a portion of revenue split accordingly between yourself and YouTube, depending upon watch time/retention.
Channel Memberships and exclusive benefits - Early video previews, live chats, or product discounts can be unlocked in return for a small subscription fee each month paid by viewers to you directly.
Super Features - a potential way to interact more with the audience as they support creators through monetary contributions such as super chat enabling highlighting messages during live streams / super sticker providing eye-catching stickers for chats & finally, super thanks allowing viewers to show appreciation via money!
Licensing Your Videos - unique and valuable content may sometimes interest other brands/media outlets, often resulting in licensing fees being charged when videos are used within their own projects, e.g., advertisements, documentaries or promotional campaigns, etc.
In addition to these traditional methods, however, there are also several alternative options sellers should begin exploring when looking at ways to improve monetization strategies:
Run Ad Campaigns on Other Platforms - diversifying reach extends potential viewership, thus increasing view count; platforms such as Google & Facebook work particularly well for this.
Affiliate Link Clicks - as well as placing referral links in video descriptions, promote them through other channels like a website or social media accounts to generate more clicks and, therefore, revenue.
Fan Patronage - platforms such as Patreon offer the opportunity to provide exclusive benefits/content (e.g., behind-the-scenes access) in exchange for financial support from fans!
Diversify Your Content – repurposing content across multiple mediums allows you to reach much larger audiences with potential income streams from podcasts, ebooks, etc., opening up wider possibilities than YouTube alone ever could!
Final Thoughts On Making Money From Your Channel
It's clear there are numerous ways creators can make money off of their content; however, it takes dedication, creativity, and understanding the monetization process correctly the first time around if they truly want to maximize their earning potential on the platform.
By preparing the channel efficiently alongside exploiting a variety of techniques outlined above, great success should come in time, so don't forget to continue creating engaging videos whilst continuously adapting changing environment.
Also, keep the audience's interests at heart always when deciding the next steps within the journey towards unlocking true rewards that come hand in hand with producing amazing unique content shared around the world every day!
Back